As an organisation that focuses on delivering high standards of service and support, it is essential for us here at Cutter to utilise an effective helpdesk platform to manage our communication with our customers.
Over a year ago, we made the decision to move to a new helpdesk that would offer better productivity, analysis and automation tools to enhance the way our engineers worked, and in turn allow us to provide an even higher level of service to our customers. After a long period of investigation, testing, and proof-of-concepts, we successfully made that move over the 2018 Christmas period.
When we began looking into a new helpdesk solution, we quickly discovered that our requirements were quite unique. Most of the helpdesks we encountered were based around the idea that once an engineer takes a ticket, they work on it almost exclusively by themselves through to completion. Conversely, the way we operate is that all engineers see all communications on all tickets, regardless of who owns the ticket. We feel that operating in this way opens the doors to collaborative working, with engineers contributing to their colleagues' tickets whenever they see an opportunity to help or reach a quicker resolution to an issue.
Unfortunately, this presented a challenge in finding a helpdesk that would keep everyone in the team adequately notified about any updates on tickets. We came across solutions that would allow us to write custom code to achieve our requirements, but this introduced a complexity and dependency that we were keen to avoid – there would be nothing worse than the custom functions we depended on ceasing to work after an update to the helpdesk software. The core of our business is around support, and it was therefore essential that our chosen solution prove dependable and reliable, so we wanted to use built-in and vendor-support solutions wherever possible.
Another key feature we required was a helpdesk that had a better understanding of our customers and our relationship with them. We support a wide range of industries across the globe, which means we need to offer flexible support packages that meet all our customers' needs. That might mean support on weekends, or covering the Sunday to Thursday working week in the Middle East, or around the clock support for our customers who operate 24×7. We wanted a helpdesk solution that had an awareness of these different working hours and adapted to suit the support package a given customer had, applying SLAs and automation tasks as appropriate to the customer and the situation. It was also important that this was an automated process – it would be no use to have a system that didn't understand when a ticket required a response until it had been manually looked at and categorised by someone.
Many of the helpdesks we looked at offered a variation on this business hours and SLA functionality, but too many of them resulted in an overly complex set of rules to reach our requirements. While ultimately they would have achieved what we needed, any small errors or changes in any of the rules could have caused the whole system to fail. Instead, we were seeking a clear and simple ruleset that could be easily modified when a customer moved from one support package to another.
After narrowing down our options and extensively testing them, we decided that Freshdesk from Freshworks was the right choice for us. Of all the solutions we looked at, this came closest to meeting all of our requirements with no major drawbacks, and offered an excellent interface for our engineers to work in every day. We have also so far found the support from Freshworks to be excellent, both in pre-sales helping us find solutions to our requirements, and post-sales assisting us with the migration to the new solution.
I am pleased to say that the move has been a big success for Cutter, and we achieved it with no downtime for our end users. The solution is already saving our engineers time, allowing them to work more efficiently while servicing our customers' needs, and helping me as Support Manager better analyse problems and trends so that we can fix the root cause of problems and improve our end users' experience.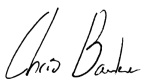 Chris Barker
Support Manager